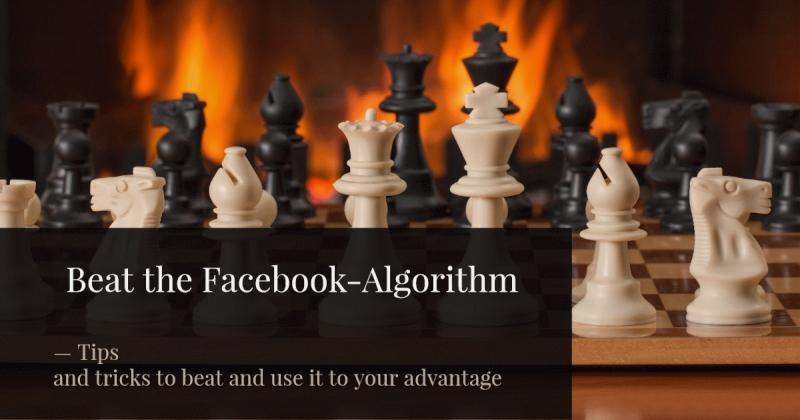 The Facebook algorithm controls the presentation and ordering of posts so that people see what is most relevant to them.
The Facebook algorithm is designed to center content around individuals' friends and family members, rather than prioritizing spam from businesses.
This might be daunting to Businesses, but it shouldn't diminish Facebook's importance to your social media marketing strategy.
As part of the new algorithm's goal of driving more authentic interactions, your brand will have to create great quality content that drives real interactions and shares.
Incorporate Video Content ASAP
Facebook themselves note that video content drives higher engagement and interactions from users compared to any other type of content on the platform.
Perfect for starting conversations and keeping your fans eyes glued to the page, marketers of all shapes and sizes can incorporate video on Facebook. You don't necessarily need to create big-budget commercial content, either.
The platform also urges creators to embrace Facebook Live to create compelling, real-time content for their audiences. The fact that Live videos produce notifications that ping your fans and followers is an added bonus for helping your videos stand out too.
Whether it's an off-the-cuff vlog or a how-to tutorial, live video represents a powerful medium for Businesses today.
Also consider simple videos created from Facebook's very own Boomerang app. Businesses such as Inspiralized frequently make use of these loop-style videos that can be created in mere seconds
In this case, it's not about outsmarting the Facebook algorithm, but giving the platform exactly what it wants. Facebook rewards organic reach to posts that drive discussion and hold users' attention, after all.
With so many options available and Facebook explicitly looking for more visual content, creating more video is a no-brainer.
When in Doubt, Start a Discussion
As part of the most recent Facebook algorithm update, the platform is now punishing marketers perceived as trying to game the system, so to speak.
For example, Facebook has explicitly dropped the hammer on posts deemed as engagement bait. While posts asking outright for comments, tags or likes was once the norm, Facebook recognizes how these posts often serve as spam, tag baiting and comment baiting.
Although there might still be a time and place for these types of posts, businesses should strive to start conversations with customers without being shameless about it. Facebook wants us to create content that drives discussion so we need to make it happen.
In fact aking questions in posts is a smart way to encourage comments without having to beg for them.
Businesses should also try to post content that's worthy of debate when appropriate. Controversial content can do just that, although businesses should tread lightly as not to run the risk of offending or alienating their audience.
The more you're able to get people talking, the more likely the Facebook algorithm is to feature your content organically.
Activate Your Brand's Most Powerful Advocates
The key to overcoming the Facebook algorithm has been under your nose since the day you started marketing on the platform. Yet so many Businesses overlook it — their employees.
Employee advocacy has never been more relevant than it is today. Since Facebook is prioritizing content from friends and family over businesses, this is the perfect time to start your employee advocacy program or rev it up if you already have one.
Your Facebook page's reach is already somewhat limited by the number of fans/followers you have. And when you tack on these new changes to the algorithm, the number of people that see your content is going to be reduced even more.
Encouraging your team to share your content with their networks on Facebook instantly amplifies your reach. Not only that, but since the posts are coming from friends and family instead of your brand, people will be 16 times more likely to actually read it.
Fewer Links, More Photos & Tags
Conventional wisdom tells us that Facebook prefers Businesses to keep content on their platform versus solely linking off-site.
In fact, Facebook's practice of de-emphasizing links and preferring their own native content is well-documented, especially in the case of video.
Sure, you're not going to totally disappear from your followers feeds by posting links. That said, keep your feed fresh with different types of content. Blasting external link after external link is not only poor form from a marketing perspective, but also won't do you any favors with the latest Facebook algorithm.
For example, visual content goes hand in hand with Facebook's best practices by garnering 87% more engagement. That's why each and every post should be accompanied by some sort of visual, be it an infographic, .gif or an otherwise eye-popping image.
You also have the option of beefing up your descriptions via hashtags or shouting out another page, both of which can expand your reach even further.
Again, your end-game is to encourage engagement. Links by themselves don't exactly scream "look at me," do they?
Make Each Post Unique
As Businesses are expected to consistently post on Facebook day after day, it's common for businesses to run out of their own content to promote.
This ultimately results in either Businesses repeating themselves by posting the same pieces over and over or not getting enough mileage out of their content by only posting once.
For starters, consider crafting unique descriptions for your posts in order to reintroduce them to your followers without becoming repetitive. Where you might have used a quote the first time, you could switch things up with a tag or question the second or third time. use different facebook copy on posts
Another strategy for reintroducing older pieces to your feed without repeating yourself is repurposing content.
There are tons of Facebook tools out there that can help you transform your pieces into something totally new in no time flat.
Narrow Your Audience
The beauty of Facebook is the ability to zero in on your audience.
If you have a widespread audience, consider narrowing your audience down by interests or geography. Facebook gives you the option to set these preferences and restrictions per post. While this may initially narrow your reach, it may increase your engagement as a result. Think of it as fine tuning the relevance to specific fans.
Restricting the audience to only specific users means that you get to serve the post to those who would care about it the most and this increases the likelihood of higher engagement on those posts.
Time Your Content to Perfection
The Facebook algorithm prioritizes posts that receive engagement, which is why timing your posts is so important.
To maximize that ever-so-important engagement, Businesses should strive to stick to a content calendar that taps into the best times to post on social media.
While such data isn't the be-all, end-all of when to post, it does shed light on when audiences are typically the most active. Anything you can do to boost your chances of being seen by more followers is a plus, after all.
Embrace the "Paid Ads" Game
While Businesses should certainly focus on improving their content and organic reach, there's no denying the power of Facebook ads.
Data shows us that Facebook ads produce an overwhelmingly positive ROI with 93% of marketers already on board. Laser-targeting combined with so many creative options, Facebook ads offer marketers freedom unlike any other other ad platform.
Double-dipping some of the tips above, you can create a video ad that grabs the attention of your followers.
Coupling your organic efforts with Facebook ads can give you the best of both worlds. The writing has been on the wall for Businesses to embrace Facebook as a "pay to play" platform, so experimenting with ads now is a good idea for the long-term.